Your numbers at hand and in time
Online invoicing, stock management, reporting and accounting software.

For entrepreneurs and their accountants!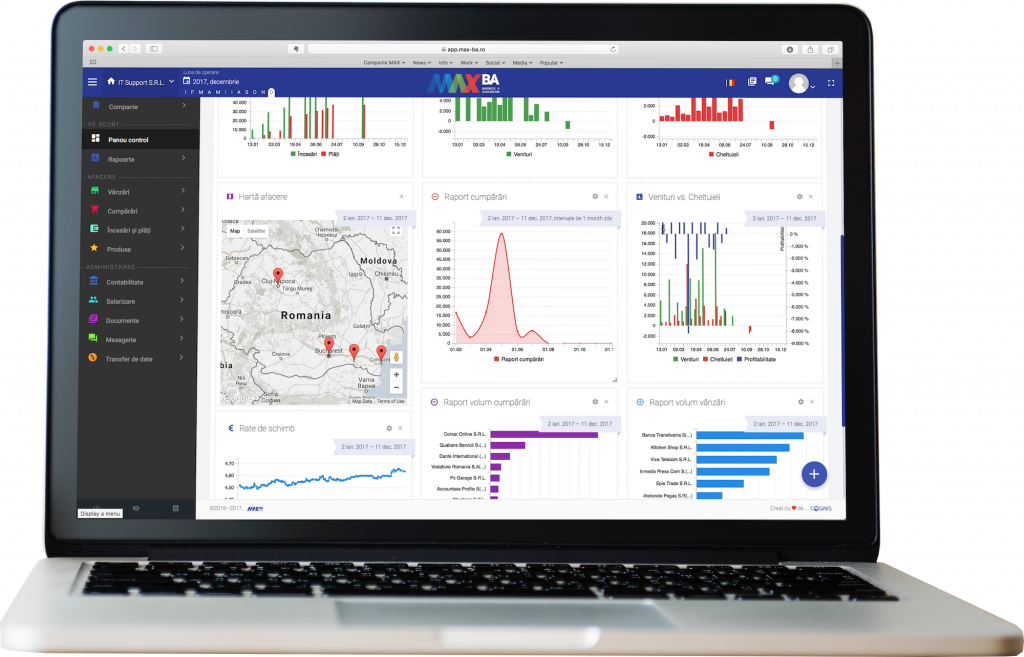 Online invoicing
  Reports and indicators graphs, online and customizable
  Primary inventory tracking
  Notifications on due dates and obligations
  Contract Management
more...
  Electronic document management
  Expense accounts
  P&L
  Automatically issue invoices
  Document templates
Unlimited number of users
  Users with different rights
  Monthly or yearly payment
Intuitive user interface
  Primary accounting
  Stock Accounting
  Online submission of fiscal statements
  Customer messaging system
  Import data from other accounting applications
more...
  ZERO cost of use
  Advanced data security
  No installation required
  Unlimited storage
  Interface in Romanian and English languages
Automatic Updates
  Minimal hardware resources
  Automatic backup
Use with minimal accounting knowledge
*) Funcționalități de bază: Număr nelimitat de utilizatori; Stocare documente; Copii de siguranță automate; Actualizări automate; Criptare SSL; Mesagerie internă (între utilizatori); Import de date (via fișiere .xls, .csv); Raport P&L; Sistem de raportare probleme și sugestii; Întocmire declarații fiscale (unde e cazul).
For entrepreneurs: click on a price button above, to chose the subscription type for this company.
First month for using the application is FREE. Enjoy it at MAX!
For accountants: the application is FREE. Enjoy it forever.
Prices do not include VAT.

Summing up, with MAX You have